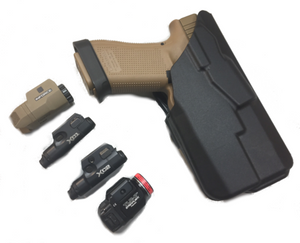 Safariland Holster Tutorial Pt. 2 Understanding the codes...
Understanding Safariland Holster Codes Part 2
We explained the first four numbers in the code, which are the holster model codes. But a current leap in technology has added another possibility that can follow those numbers "DO" was the first and stood for Doctor Optic as in the 6354DO that so many are familiar with. This was probably the first optic sight holster, and it was devised to fulfill specific contracts. As the slide-mounted optic came into vogue, this holster was modified by many to fit their optic holster needs. Since that time, a new type of optic box was invented to cover a much wider variety of optics. The new designation is RDS (Red Dot Sight), and it can be found on an ever-expanding list of holster choices. You will see this in the 6390RDS, 6360RDS, 6377RDS, 6384RDS, and so on. There are now also the new 7TS injection-molded optic sight holsters, and they follow the same pattern 7390RDS.
The second set of numbers in the Holster Code is the gun and light
combination. Example: 7360-XXXX-411 as denoted by the Xs. This code can have as few as two numbers and as many as six. It signifies the gun and gun/light and laser combination. We'll start with the most common numbers, and I'll provide a list for reference. Be advised; this list is continually growing.
The baseline code for a Glock 17/22 is -83- , now updated to -835- with the changes in the Glock Gen 5 models.
A Glock 19/23 is -283- or -2835- for Gen 5 Glock 19/23, Glock 26/27 -183-, and Glock 20/21 -383-, so for the Gen 5 models there is an added "5" to the original fit codes.
You can see that this list of codes is built on a basic number set. That is often the case, but there isn't a specific set of criteria that governs the development of the sequences for a pistol type. When the Sig P320 came out, it was designated as a -450- for the full size. Then the compact was identified as -750-.
These codes are developed as they are needed, and it usually takes a practiced eye to read them.
Following the gun code numbers will be the light code. The common Safariland lightbox is de
signated as (2). This is a multi-fit lightbox, meaning that it fits a variety of lights. But there is more than one light "box" designed. It's usually developed for a specific need or contract; then, it is found that other units will fit inside those dimensions.
The (2) designation lightbox fits the most common lights. Including Inforce APL, Nightstick TWM-350, TWM-350S, TWM-850, TWM-850S, ITI Streamlight M3, TLR- 4.00" 2832 1, TLR-1HL, Surefire X200, X300, or X300U.
A side note: In most ALS lightbox holsters, Safariland retention standards will apply whether the light is attached or not. Meaning, that you can utilize the holster with gun only without the light attached, and it will still provide that life-saving retention that the company is known for.
So, to develop the code with a light, you add the light designation to the gun code. Example: A Glock 17/22 with a standard lightbox is -832- (-8325- Gen 5 version), A Glock 19/23 would be -2832- (-28325-) and so on. There is more than one lightbox, so they each have a different code. A Glock 19/23 with the compact lightbox is a -28327-.
For a full list of fit codes see the Safariland Will Fit Guides located here:
 And, a list of lightbox designations with their fits: (most common, not inclusive see fit charts)
2

Inforce APL, Nightstick TWM-350,TWM-350S, TWM-850, TWM-850S, ITI Streamlight M3, TLR- 4.00" 2832 1, TLR-1HL, Surefire X200, X300, or X300U

21

M3, M6, M3 LED IT Tactical Illuminator Light, Streamlight TLR-1, TLR-2, or Insight XTI Procyon

17

DBAL light

14

200, X300, X300U, X300V, X400,X400U, or X400V Light

12

Insight Technology Streamlight M3X /M6X

01

Surefire X300, or X300U with Pressure Switch NOTE: Retention is reduced by removal of

light

27

Streamlight TLR-7, Surefire XC-1, XC-2, Nightstick TCM 550XL, or Inforce APLc
The third set of numbers is the color/finish/hand code. Example: 7360-28325-YYY. (As denoted by the Ys.) The color/finish code is usually the first two digits, but in some cases can be just one. A popular code is (41), which stands for plain black. The is a color available in both 6000 and 7000 series holsters. (13) is STX Tactical black. This is a black finish that has a subtle grain to it that cuts down on reflection and is available in the 6000 series but not the 7000 series. These are just two examples of color codes. I'll include a list below. The last number in this code designates the hand. A (1) is right hand, and a (2) is left hand. Example: -411 would be a plain black right hand, -412 is plain black left hand.
Common Finish codes:
LEATHER LOOK
-2           PLAIN BLACK  (Duty Gear)
-5           PLAIN BROWN
-6           PLAIN BLACK
-8           BASKETWEAVE BLACK
-9           HI GLOSS BLACK
-22         NYLON LOOK BLACK – BELTS & ACCY
-26         NYLON LOOK BLACK – HOLSTERS
-35         PLAIN RED         
STX
-12         STX TACTICAL BLACK – 6004 SERIES
-13         STX TACTICAL BLACK
-23         STX TACTICAL BLACK - 2 Screw Mounts for 6004 Harness
-41         STX PLAIN BLACK
-48         STX BASKET BLACK
-49         STX HI GLOSS BLACK      
-54         STX TACTICAL FOLIAGE GREEN
-55         STX TACTICAL FLAT DARK EARTH
-56         STX TACTICALOLIVE DRAB GREEN
-76         STX TACTICAL COYOTE BROWN
CORDURA (AVAILABLE FOR CERTAIN HOLSTERS ONLY)
-70         CORDURA MULTICAM
-73         CORDURA RANGER GREEN
-74         CORDURA COYOTE TAN
-75         CORDURA KHAKI
-78         CORDURA BLACK
7TS Holsters
SAFARISEVEN
-41         SafariSeven Black
-55         SafariSeven Flat Dark Earth
-48         SafariSeven Basketweave
-49         SafariSeven Hi-Gloss
So, let's break down a complete code; 7360-28325-411
7TS Level 3 mid-ride duty holster- for a Glock 19/23 Gens 1-5 with a standard lightbox (i.e., TLR-1/X300U)- in plain black right hand. So you can see that there is some method to the madness of these long list of numbers and, most importantly, that being off one number can mean getting the wrong holster by either model, fit, color, or hand choice.
I hope this article will bring some order to what seems a chaotic subject. Most of this information can be found on Safariland's site. It's worth your time to do a little research before you place an order. It's always better to get it right the first time.  If you have questions or comments please let me know...
---
1 comment